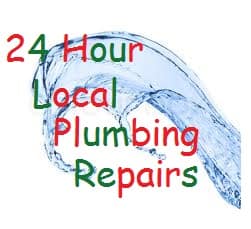 24 hour local plumbing repairs, we offer a fast response to plumbing emergencies when ever they occur. We are often called out on 24 hour local plumbing repairs that are usually outside the normal hours that  most plumbers operate. Working as an emergency plumber means a 9 till 5 working  day dose not exist.Plumbers often work late due to unexpected problems occurring throughout the day, for most plumbers it is not unusual to have an extended working day.
Emergency plumbing work is fundamentally based around having  several very important attributes, fast response, the availability to work at very short notice, having the right tools and materials with the knowledge to use them correctly.  24 hour local plumbing repairs can only be carried out successfully if all attributes mentioned are in place. the speedy arrival of a plumber isn,t much good if ill equipt to carry out the work.
It would be virtually impossible to stock every part to deal with such a wide array of situation that may occur  when dealing with out of hours emergencies. Over a period of time  dealing with 24 hour plumbing repairs an experienced plumbers may limit keeping unnecessary stock,  but always carry fittings which are often required for repairs.  Having a combination of  the right parts and the know how is what it takes to deliver a successful conclusion to any emergency.
Having a plumbing emergency is something which will only happen to a small percentage us, this will most likely be during the coldest periods of the year.  Hiring an experienced plumber to deal with the situation could make all the difference. The quicker the supply is isolated then the less chance of water damage. The plumber can then move his thoughts to the course and then  repairs being the finally solution.