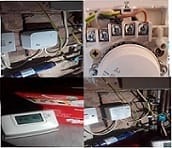 Common central heating problems
There are crucial factors that need to be in place to ensure a boilers fictionality this will take it from standby into central heating or hot water mode. Most modern central heating systems are controlled by some form of external control, this can be by way of a programmer or a room stat or on occasion a combination of both. Employing a continues regiment of an annual boiler service is a great strategy in terms of longevity. However, when a central heating system fails to come on it may be a problem that is not due to the boiler but an external control.
Central heating is controlled by a room thermostat or a programmer .
Whenever you become accustomed to the control of your central heating system it quite obvious something is wrong after operating the controller and the boiler fails to turn on. When new occupants take on a property a lack of understanding can lead to the assumption of fault this is often not the case. If the control is out of synchronisation or operated incorrectly then the activation is lost between the controller and the boiler. In the past boilers were operated from pushing a bottom on the facia panel without the use of external controls. Modernisation and improvement in efficiency as presented an array of heating controls. There are devices to limit temperature and add time control and some with the sophistication of being operation via a model phone.
Traditionally heating controls are wired in, wired in connection are secured and robust a break in the wiring is rear. A lose of voltage through the wiring that energises the boiler into operation can most likely be traced back to the control. Some wireless room thermostats combine the ability of temperature and time control. The installation procedure is far more straight forward than the traditional wiring. However wireless units operate via frequency that can be lost due to distance or intermittent interruption. Quite often a diminished battery life is the cause of the problem, a simple battery check will eliminate this form the evasion.
Energy efficiency and temperature control.
Preparation before use is fundamentally what many controls do, rather than arrive home and then proceed to on turn the heating. A pre-set time can be set using a programmer for the heating to come on. A similar strategy is applied using time control to achieve the use of electricity during the off-peak to reheat water during the night. This type of hot water system is found in modern apartment blocks. Time control can be adjusted to suit an individual's needs. Whether this being operating the central heating at a pre-set hour or preheating a storage cylinder for day time use.
How to choose a reliable heating control that wont let you down in winter.
Placing this decision in the hands of the installer is the easiest option. An installers years of experience develops an awareness of which manufactures products will deliver longevity for the customer. However, when purchasing a central heating control the decision should be based on performance rather than price. Here is a guide that will enable you to compare prices on different products and also read reviews click here. Whilst working we have encountered the lose of central heating due to a weak signal from a wireless room thermostat. However, we quick restored functionality on the second visit with the institution of a very reliable product a Honeywell cm927