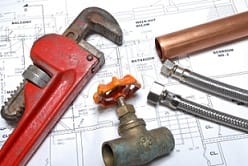 Emergency plumbers tools and equipment
One of the most important things to be aware of before attending a plumbing emergency is being equipped for the job, having the right tools and materials for the job. Popping out at 2 am to get extra fittings to complete a job is not an option when doing emergency Plumbing. Whenever an emergency occurs after the plumbing merchant has closed, completing a repair can then become a problem, because if you haven't got it you can't fix it.
Being equipped as an emergency Plumber is not just about having the correct tools and equipment for the job, but also having the experience to easily work out a solution to get the Plumbing Emergency quickly under control.
However, on occasion, some of the emergency Plumbing which we have attended can have quite serious problems related to the pipework. Gaining access to carry out repairs can be extremely difficult due to pipes either being underground or embedded in walls. On these rare occasions, it may be best just to isolate the damaged area of pipework at the closest point possible until the problem can be thoroughly investigated.
Emergency Plumbers should be equipped for at least 90% of the work that they will come up against. Most Emergency Plumbers will find through work experiance case study an insight on what tools and equipment to keep on board.  Having a stock to suite the demand exabits being professional forward thinking. Preparation in this vital aspect of emergency plumbing increases the possiabity of a closure on the first vist.