#

Emergency plumbing, our customers, appreciate an excellent service.
Emergency plumbing is an important aspect of plumbing; it is often overlooked but appreciated after a customer as received a first class service in a crisis.  The appreciation from a customer after an emergency plumbing repair as been successfully completed is a great incentive; this makes a difficult job all worthwhile.  An emergency plumbers services are not restricted to occupants that find a severe plumbing defect that requires immediate attention.  Construction personnel including landscapers plasters, builders and electricians can accidently damage pipework while carrying out work.  A problem like this can not only create potential damage to a property but also account for time lost on a project.   A fast response to an emergency like this can drastically help to revert a potential disaster into satisfaction and gratitude from a customer.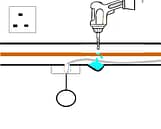 We can resolve 90% of emergency plumbing pairs on the first visit.
It is very important to be clear on what is to be expected, 90% of our emergency plumbing repairs can be tended and resolved on the first visit.  However, what is paramount in an emergency crisis is to stop the immediate danger of water damage.  Experience has taught us to stock most of the standard fittings needed to carry out emergency plumbing repairs such as replacement taps pipework with the added variations in fittings,  that are adaptable from plastic to copper or even imperial to metric.
24-hour boiler repairs
Plumbing repairs are by far less complex in comparison to a boiler repair.  With over 5000 models of boilers on the market, difficulties lie in  24-hour availability to spare parts for some of less popular brands.  However, a satisfactory resolution to an emergency call out to a boiler repair can often be achieved, without replacing parts.  Other problems besides component failure can prevent the operation of a central heating system.
In situations where a boiler has an internal leak then safety is paramount,  a plumber should turn off the boiler, isolate the electric supply to safely carry out an inspection. This will illuminate any possibility of a circuit that would cause further damage to the boilers internal components.