Emergency shower installation, does your leaking shower need replacing?
Because there is such a wide variety of showers on the market a prognosis that incubuses all showers into a one category would be impossible.  However quite often a leaking or malfunctioning shower is a good indication that it is time for a replacement. An emergency shower installation is usually a follow up visit to an already diagnosed faulty unit,  during the second visit is when a new shower is in installed.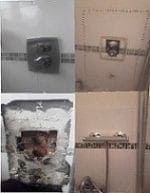 Shower repairs become an emergency when leaks occur at mains pressure.
What type of problems constitutes an emergency callout from a plumber in regard's to showers?   Top of the list is when a shower is leaking internally,  it is damaged and is losing water rapidly at mains pressure.  An emergency shower installation could also be required because a shower loses its ability to switch off causing the none stop flow of water at the shower head.  The urgency to have a new shower installation could also be due to the possiabity of the lose of earnings.  For example an hotel or some other establishment that is reliant on delivering a constant supply of hot water for there customers.  However when denied the luxury of a shower due to a breakdown across the board most people would rather have it sorted soon than later, it is usually just a matter of the cost.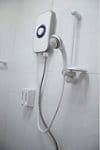 What types of showers do we install ?
We install a mixture of different showers categorised into three sections, electric shower, thermostatic shower, bath mixer shower. The most cost effective of three would be the bath mixer shower.   This unit is easy to install with minimal pipework adjustment there is no breaking into walls or tile adjustment needed.   Other types of showers installation may require adjustments to pipework tiling or even an upgrade to the existing electric supply.
It takes a mixture of expertise and years of experience to successfully install a shower with the result being correct functionality.  An important aspect of our success is that we are familiar with a wide range of shower units on the market,  and the compatibility as to where each product can be installed.   Its good practice in a quest  to avoid disappointment before going ahead with the purchase of  unit,  to enlist the services of a plumber.  Seek expert advice on what shower you need and the combativity to your properties plumbing and water supply.
Recommended showers
An easy installation of a shower is what most plumbers ideally are looking for, however you have to put all personal preference aside for a moment, in order to fathom out what shower installation is best for the consumer.  As mentioned earlier a thermostatic bath mixer shower is by far the most cost effective shower installation. However this product may not be compatible with all plumbing installation. An uneven balance in pressure between the hot and cold water supply will affect functionality, a pre installation check will determine this factor.
An electric shower is a wise choice regardless of the model or manufacture.  An electric operated shower is a great secondary source of hot water,  it can be used as alternative during a boiler breakdown.  The installation itself can be expensive if the wiring is either not present or needs to be upgraded.  The plumbing is usually less time consuming than the wiring.  If there is already an electric show in place that has become faulty then the installation becomes far less challenging.  An emergency shower installation can be seamlessly carried out, especially if the faulty/damaged shower is quite modern,  this makes it easier to find an identical replacement.
A thermostatic mixer shower is powered via a combination boiler,  it can be installed beneath tiles or externally,  the valve is connected to the hot and cold water supply.   The valve is fitted with two control knobs one for the flow the other for the temperature.  Installations beneath tiles can be an obstacle whenever faults occur,  although this creates a visually pleasing look to a bathroom difficulties occur whenever the valve becomes faulty.   A slightly more intrusive but overall a far better choice in terms of longevity would be the installation of the shower valve externally.   The benefit of this is easy access for repairs and maintenance,  and also an emergency shower installation can be carried out quickly.  There is no need for pipework adjustments or the inconvenience having to break through tiles.