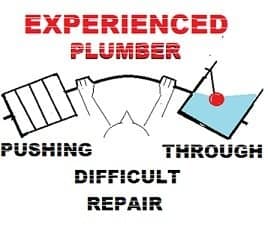 The analytics behind becoming an experienced plumber.
There is a direct correlation between the number of times a task has been carried out and the method used to achieve a successful result. Understanding this basic statistic can be utilised to excel someone from a novice into an experienced plumber. Some plumbing repair is a lot more complicated than others. To the inexperience, this can be a daunting and challenging journey outside the comfort zone. However, failure should not be feared but used to highlight, and then eliminate a particular technique used for plumbing.
An experienced plumbers case study of work will cover a variety of plumbing services, some more specialized than others. Through a recollective process of observation over time experience can be referenced from past success and failures. The depth of information retained is what separates a novice from a specialist. This will determine whether a plumber as the ability to successfully tackle a difficult plumbing repair
From a novice to an experienced plumber.
Having a plumbing qualification in place is a great foundation to start from. However learning plumbing in a classroom is great,  but without onsite experience  plumbing work outside this environment will be difficult. One of the basic principles taught in the classroom is a thorough read of the manufactures before an installation.
This principle works well when assembling fixtures such as baths showers or a wash hand basin. However, the skill of pipework installation is something you will not find in an instruction manual. Unless every property built consisted of the same internal layout only then would this be possible. There are so many variables to pipework installation,  only being adequately equipped and experience will guarantee a successful result.
Sharing the skill of plumbing with the community
Acquiring the skill of plumbing is a great achievement, however without sharing or passing on the skill to others the concept of giving back to the community is lost. Experience can be attainted through the analytic process of working out the percentage of the successfully results verse failures.
A supportive colleague that is willing to share experience can help to disguise various options that may of been previous over looked.  Quite often learning from others mistakes will give an insight not only into what to do but also what to avoid.
Strike a balance between workmanship and customer service.
Generating a steady steam of work in a already crowed and completive market only happen as a result of hard work.  Strike a balance between workmanship and customer service, this merits a customers repeat business.  The enthesis being repetitively providing equality service above all else.