What to do if bad plumbing's trying to spoil your day.
There are crucial factors that will minimise the possibility of manger structural damage during an emergency plumbing crises. Whenever a burst pipe occurs panic is the overwhelming emotion that will hamper the clear and precise thinking required to get a situation like this smoothly under control. Ideally, being familiar with your properties plumbing is an advantage, this is something that every occupant should try to become aware of.
A stopcock can shut off the mains water supply to your property, identify the location and familiarise yourself with how it works. Never add excessive force to a seized stopcock, if in doubt designate the task to the expertise of an emergency plumber.
Listed below are locations where stopcocks are commonly found. ( 1 ) under the kitchen sink ( 2 ) Modern apartments, in a designated compartment where the boiler is situated ( 3 ) Behind the plinth of the kitchen  unit ( 4 ) At the front entrance inside a property ( 5 ) In the garage.
Without correct planning a kitchen renovation,  could render a stopcock  inaccessible. Boxed in without an awareness of its existence until a emergency plumbing crisis occurs.  A situation like this can easily be avoided by only employing the services of  well organised kitchen fitter with an eye for details such as pipe work accessibility in case of future plumbing repairs and maintenance.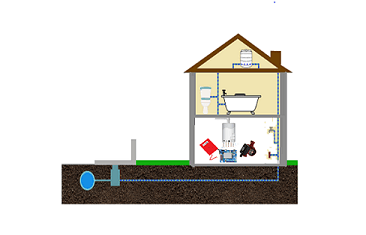 An emergency plumber needs to know the location of the stopcock.
An emergency plumber will most likely identify the location of the stopcock then isolate the water supply before proceeding to repair.  Not everyone feels comfortable with plumbing or any aspect of household DIY. However, even the most basic understanding of your properties plumbing will be beneficial in a crisis.
Shutting off the water supply via a stopcock does not guarantee the stoppage of a leak in every instance. However, the majority of burst pipes can be successfully isolated using this method. Having an insight into the plumbing in your home can save an emergency plumber vital time in a crisis.  A plumber frantically trying to identify the location of a stopcock in a crisis, would of other wise moved on to the actual repair.
An emergency plumber can also isolate the water supply from outside.
By isolating mains water supply from outside will bypass a faulty stopcock,  this option is  a fast solution if you are unable to identify the location of a shut of valve internally   This form of water isolation is specialized, it not only requires a special tool but also the removal of soil in order for it to become assessable.