Concerned about a leaking lead pipe in your property? Same day lead pipe repairs.
Chosen for its durability and the fact that lead pipework can easily be fabricated to suit the installation. Lead pipe repairs are common. After decades of being subject to changing temperature building, movement and high water pressure. A lead pipe is long lasting and robots but inevitably over time, a leak will occur. Lead is an outdated metallic material that is no longer used for plumbing.The material used on a new main water supply pipe installation is plastic.
Whenever lead pipework repairs are required, it is always associated with an old building. Modern buildings' water supply is now more aimed at health and safety in the preservation of potable water. Whenever lead pipe repairs are required, a partial or complete removal can be performed. If the damage to the pipe is above ground, the work becomes less complex.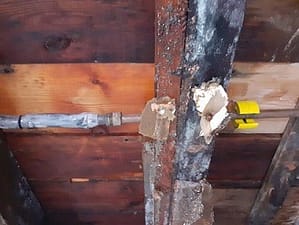 Reconstructing pipework from lead to copper.
A partial removal of lead pipe can be performed above ground without too much disturbance to the occupants. In some properties, the lead pipe may be attached to the main stopcock. If this is the case, then a replacement stopcock must be fitted.Then the rebuilding of the new pipework from the cutoff point of the old lead pipe can be rebuilt using 15mm copper.
Damage is usually caused because of metal fatigue in the protective layer surrounds the core of the pipe.Regarding a leak, below ground identifying the exact position is crucial before an excavation can begin. A complete removal can also be carried out by an installer in order to increase the flow rate when installing unvented systems in a large property. Modern Plastic mains supply pipe has a larger diameter inner core, its predecessor the lead pipe, a larger circumference will increase the flow rate.

Isolation of the mains water supply must be established before any repairs can be carried out. Lead pipe repair is unlike copper or plastic pipe repairs. It requires special fittings to complete a join. If the lead pipe is damaged below, the mains stopcock professional help is a must. If the damage is above, then the stopcock can be closed until the repair is complete.Reconstructive lead pipe repair is unique to each task. The variation in each situation will determine the best cause of action to achieve a successful result.
Lead pipe can appear quite thick in diameter,its thick outer layer protects a much smaller inner core containing the water. Lead is a very soft metal. Scratching the surface is easy. This will leave shiny marks. This test can help identify whether the pipe is indeed lead before you attempt to carry out any lead pipe repairs.