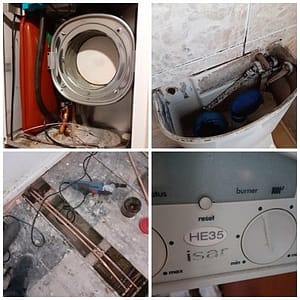 It is inevitable that at some point or another your property will encounter a plumbing or a central heating related issue. Having the choice of enlisting a plumber near you or one that is geologically outside your area is a no brainer. However, what is the pivotal point of sales when a customer decides to commit to a particular plumber? Or proceed to but the phone down and phone someone else. Is it the price availability location or someone that sounds like they know what they are doing?
Creating an equilibrium between all of these factors is something we have worked hard to achieve. Merely being a plumber near you is not going to assist in overcoming a difficult plumbing repair.
Plumber near you serving the local community.
What is the advantage of using a local service?  A shortened period from the entail telephone call from a prospective customer to the arrival. Familiarity with the local area will cut back on travelling time for a plumber local to you. The period delegated to each callout is important. We aim to reduce the time and inconvenience for our customers. We are stocked with an ample supply of plumbing parts. And whenever required we know how to get to a plumbers merchant close to where you live.
The variety of local plumbing work we do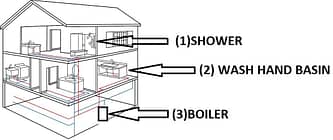 We have a good understanding of where plumbing problems usually occur in most properties. And know exactly what is necessary to achieve a successful result. It becomes somewhat robotic but never boring to repeatedly carry out similar plumbing repairs. However, each task is unique with slight variations to the layout of the plumbing and also the location of the boiler.
By retailing, the experience from previous successful plumbing work helps us deliver an excellent service. The quicker we can repair the more cost-effective is the service. Being a local plumber gives us the added advantage of being familiar with the whereabouts of most stopcocks. In situations shutting this valve off quickly is a most before we commence to the actual repair.
Our analytic approach to plumbing can help you.
Diagnostic work within the plumbing and central heating sector can be somewhat challenging.  Quite often by asking a customer, the right question can help to find the solution.  For example, a damaged or faulty fitting does not always signify the cause.  A problem can also occur due to a mistake made during the installation. This will undauntedly result in a problem occurring at some point.  Using the process of elimination is an invaluable asset when used by a plumber to identify the cause of a problem.
As a result of carrying out the same type of plumbing repairs, we have taken a note of the results. By doing this we have acquired the knowledge on what fittings to keep on board. And the best technique that delivers the best results. With this experience, 90% of our work can be visualised from a telephone call. Giving us the ability to give a rough estimate on costs before actually attending the job.
Plumbing work is not just a job for us, but something we enjoy as a result of this our customer gets the best possible service. Sharing the skill of plumbing with the community is an important part of our service.