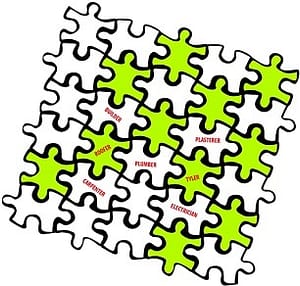 Plumbers and electricians skills are similar.
A similarity within the construction industry can be associated between the skills of plumbers and electricians, the reason for this both of these skills require professional training in order to carry out work in both of these fields. Plumbers that carry out work without interfering with gas appliances or its supply may not always be certified but competent. However, plumbers carrying out gas related work must be gas safe registered.
Plumbers and electricians including trades like roofing can all complement each other, by each of these skilled services needing the others expertise to complete certain tasks. A roofer may need a gas safe plumber to assist with the removal of a flue. Our a plumber may require an electrician's expertise with the installation of a new shower or to set up a fused spur to power a boiler. Plasters carrying out renovation work may encounter radiators or electrical fittings that course an obstruction. Unless a plaster is multi-skilled and competent to carry out this work, anther trade personnel will have to be called in.
Some plumbers and electricians have acquired useful skills from observing each other's work. This then can become quite useful if for instance an electrician accidentally punches a central heating pipe while lifting a floorboard, repairs can then be carried out without looking for a plumber. Most plumbers have basic safety knowledge on electrics but are limited to only working on electrical problems within the central heating system.
Multi skilled tradespeople have the ability to complete complex projects single handed that incorporates more than one skill. A common term used to describe people that retain this ability is an all rounder. Being an all-rounder can have great advantages over other trades people that are limited to only working in a single sector. A plumbers and electricians skills combined can be a very helpful service to a prospective house buyer. House buyers seeking a professional's advice on the condition of a properties central heating system, an inspection called a gas safety check can be carried out. Landlords and letting agents are obliged to having a gas safety inspection carried out to their rented properties annually.
An electrical inspection of a properties wiring can enlighten a prospective buyer of any electrical defects. These checks can all be done by using a multi-skilled person that is competent and also qualified to carry out these types of checks.