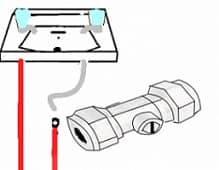 Plumbers adapting to changes from imperial to metric in the 70s
A drastic change over occurred during the early 70s in the Uk with the introduction of metric measurement. Before this,  plumbers were accustomed to an imperial system of measurement.  Imperial pipes are measured using the inside diameter of the pipe. Copper pipework in installed before the 70s will probably be sized in imperial measurements – 1/2 inch, 3/4 inch, 1 inch, etc. The metric pipe is measured using the outer diameter;  the idea of this is to unify all the fittings into a better standard of sizing.  The new metric 15mm copper pipe used today is a close match to its predecessor the 1/2 inch and is rarely found in properties today.
On occasion a plumber will encounter a 1/2 inch copper pipe,  this type of pipe will not be compatible with a modern metric 15mm  fitting.  Being equipt for the unexpected is an important aspect of emergency plumbing repairs, having a fitting that can adapt the change over from 1/2 to 15mm, this can give a plumber a fast resolution to a situation that would otherwise have proven difficult.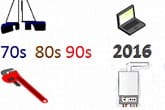 Plumbing in the past- separated by decades of improvements.
If a plumber from the past could have a preview of some of the modern developments achieved in the plumbing-heating industry over the last 20 years, they would be astonished.   The improvements in the central heating industry are targeted towards energy efficiency,  while plumbing is aimed more at water conservation and installation simplicity.  Modern power tools and easily assembled fittings can now assist the modern plumber to complete tasks that in the past would have taken much longer.
A simple procedure such as replacing taps would require the mains supply to be turned off via the stop tap.  A modern and simplified vision of this would be to isolate the hot and cold supply under a sink or basin by the simple turn of a valve.  Isolation valves designated strategically enable plumbing repairs to be carried with minimal disturbance to a properties water supply.
Plumbers in the past were more accustom to using the skill of pipe bending; plumbers would manipulate copper pipe it to fit into awkward areas such as,  under baths, sinks, and basins.   Faced with limitations in the choice of materials used in the past a higher level of plumbing skills were required to complete a task that could be done now in a fraction of the time.
What options are available for plumbers today.
With the introduction of plastic pipe and fittings in the 80s, this offered plumbers flexibility and speed on tasks that would previously either had been soldered and fabricated to shape by using pipe benders; joints were made using compression fittings.   The only other option to this was flexible 8-10mm flexible copper pipe; this had its disadvantages due to its narrow inner core.  The 10-8mm pipe would prove inadequate to carry a satisfactory flow rate to sinks, basins and bath taps.  This easier to use flexible copper pipe is often found on older central heating systems.  Small diameter pipes tend to be a lot more susceptible to blockages if foreign particles were to enter a heating system.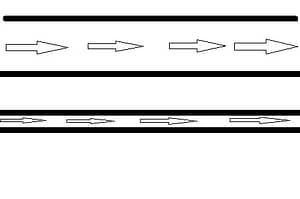 One of the key functionalities of a  central heating system is heat transference.  A higher level of energy efficiency can be achieved by speeding up the process of heat distribution,  from the boiler to the radiators.  The installation of 22mm copper pipe offers a great flow rate,  it can quickly deliver hot water to its designated point of use.
One o

f the most innovative, popular and easier to use fittings today would be to the Flexible hose.  A  Flexible hose comes in varying lengths 300mm 500mm  they can also come incorporated with an isolation valve.  This fitting can cut the traditional time spent changing taps in half.  A plumbing accessory such as this is vital to not only be used as a replacement, but it can also help a plumber to overcome difficulties.   This concept of a flexible pipe fitting is not restricted to been used under a bath or sink.  An example of this can be identified as a useful device called a filling loop incorporated into the filling process on some boilers
Plumbers today's  have an assortment of different fittings and tools offering a plumber variations on how to tackle a task.  Most plumbers have their own particular plumbing technique, some of these techniques may be quicker than others.   What is most important is not the technique used or the time it takes to complete a task,  but the ability to identify and use innovative new ideas and developments to achieve the desired result.