The creative art of plumbing is a skill.
It is often the case that a properties pipework and plumbing are considered unsightly,  as a consequence of this pipework is concealed within walls, shelving or below floorboards.  The areas in your property that the pipework is exposed can be a showcase rather than an eyesore.  Visually some of the most commonly used materials in plumbing are incredibly difficult when exposed to transcend an attractive look.  The plastic pipe is the most likely candidate when connected and functional in a property.  However, a colourfully contemporary contrast using plastic pipe offcuts can be used as either a wine rack or a planter in your garden.

Copper pipe exposed and beautiful
Copper can look beautiful exposed with a creative design and presentation in place,  it maybe your vision or the creativity of a plumber or a combination of both.  As a more ostentatious look to the standard plastic clips used for stability,  metallic pipe clips can add an improvement to the finished look.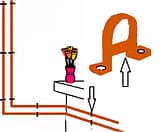 When copper is exposed to the outside over a period will lose its natural look,  Just as iron that if left unprotected in the open air will corrode and become rusty.  Copper that is exposed to the elements over time will develop a pale green outer layer called patina. This look is especially suited to the urban garden design. Copper has been incorporated into garden planters, mirrors and even hanging baskets.  The discoloration over time gives an added depth and interest to the garden.

Exposed copper pipe can be left in its natural state or covered up or altered to create a chrome appearance. Small areas of exposed pipe can be covered up by using a kit to create the illusion that the connecting radiator pipes, for example, are chrome.
Chrome plated copper pipe can also be utilised for a similar purpose,  it can be used to replace the conventional copper pipe in long runs of exposed pipework. Unlike the chrome kit which is inexpensive and DIY friendly, installation of chrome plated copper pipe may require you to enlist the services of a plumber.
There are three standard fittings used for joining copper pipe, Soldier, push fit and compression. A soldered joint requires high temperatures to create a join; this process could ruin the finish look of the chrome. An alternative to soldering would be a push fit, of the three joints, mentioned the push fit is by far the easiest in the application. However, the push-fit fittings are plastic and bulky this will illuminate the metallic chrome finish to the pipework. A compression fitting is perfect for this type of installation; Compressions are metallic the tightening process is manual via thread and olive, this fitting can also be purchased in chrome to match your finished look.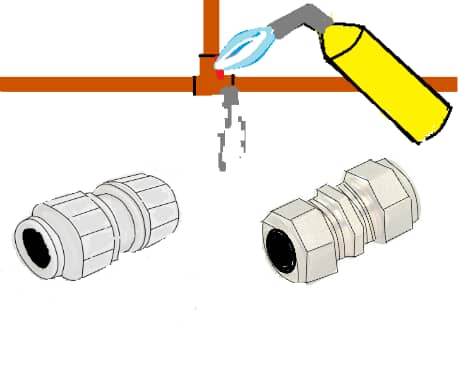 Plumbing is an art a skill and a career!
Plumbing is an art a skill and a career that can be diversified into many different segments of the industry.  A client many have aspirations of home and design adaptations to their property but may require the input of an experienced plumber to transform a vision into reality.  These are the creative aspects of plumbing that makes it an art form,  taking skills such as, soldering bending, precision measuring and adapting them into home and design to create an improved visual effect to your home.