Emergency Plumbers in Birmingham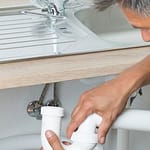 We are always at hand to solve your plumbing crisis any time of the day.
More
Emergency Plumber in Birmingham - 15 Years Experience Trusted 24/7  Emergency Plumbers in Birmingham Professionalism and politeness may not be the first thing people think of, but for us, it is one of our most valuable assets Everyone who owns a home will eventually face plumbing issues. That's where our 24/7 Emergency Plumber in Birmingham comes in - to provide you with a reliable and experienced plumber that can understand how to deal with all our your needs. What do we do...
More