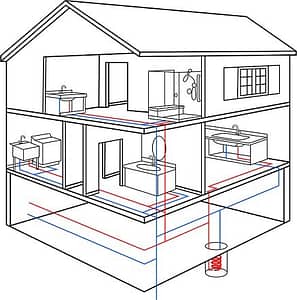 Transparent look into plumbing behind the scenes.
If you could take a transparent look at the plumbing infrastructure in your home the view would be quite interesting. Beneath the plaster wooden floors tiles and trunking the pipework would be preserved in its original state. The prospected of this would be ideal if you were drilling but desperately trying to avoid punching a pipe. Or perhaps a plumber faced with the challenge of identifying the exact location of a leak hampered by inaccessibility.
The term first fix is the installation of concealed pipework,  that is constantly functioning  behind the scenes.  This infrastructure is cleverly concealed behind decretive features such as walls ceramic tiles and plaster.
From the construction stage of pipework, soundness is crucial. Processing a plumbing's installation come other trade personnel such as tilers plaster and decorator. Any defects to the pipework infrastructure after this stage it will be extremely costly. Hence the need for thorough testing or the implementation of an inspection hatch where possible.
When pipework accessibility is limited.
A new pipe installation is built to achieve a water tight seal on a permanent basis. It is imperative to archive this status whenever pipework is to be installed in areas that offer limited accessibility. So whenever leaks occur beneath tiles, under floors or within walls accessibility is limited. A leak in these location is far less challenging than the aspect of gaining access to repair.
What can be done to make pipework more accessibility.
What can be done to make pipework more accessibility ?  This may not be achievable in every location where pipework is installed. However if you are contemplating acquiring the luxurious look of a concealed toilet.  Its a good idea to incorporate a inspection hatch as part of the installation.  A removeable fixture that will enable access to isolate repair pipework or make modifications if need be.
From the outset of an installation making provision for future maintenance is important.  This will help shorten the amount of time a plumber spends tackling awaked plumbing repairs.  And also eliminate the possiabity of having to force entry through décor in a quest to find or repair a leak.
Plumbing maintenance made easier by using a drawing.
A straightforward but effective way to outline the whereabouts of pipework buried in walls or beneath a floor is with the use of a drawing.  A diagram is often used by installers drawn out on the surface of wooden floor boards to outline the whereabouts of pipes below.  However, drawing on a properties inertia walls is not practical.  A electronic detection device can be used to penetrate the fabric of a building to metallic material beneath.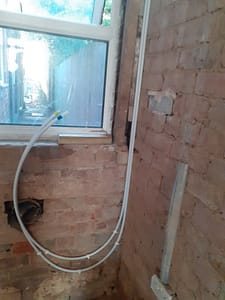 However this form of  pipework identification is restricted to the dection of metallic materials.   The installation of plastic pipe within walls that is not  protected by a metallic shield will remain undetectable and is then vulnerable.
A schematic drawing is used to construct the plumbing infrastructure in ever your home.  Getting a copy of the original drawing would be very difficult. In addition to this depending on the age of the property modification may have been made to the original pipework.
For future reference whenever building renovations' are put in place that incorporate plumbing.  A detailed diagram of the pipework installation,  if put in place will assist in identifying the whereabouts of pipe installed in inaccessible locations. Provision for future plumbing maintenance should be put in place if possible.  Especially if long term occupancy of the property is expected.