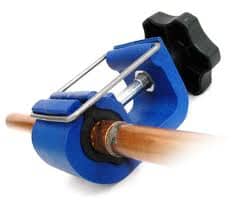 Temporary Plumbing repairs can be very useful to stop water damage when faced with an Emergency. Temporary Plumbing repairs is only a short term solution until professional plumbing repairs can be carried out. One of the first things that should be carried out when moving into a property is to locate your stop cock and make sure its in good working order. You may wonder why?but if you have any form of water damage whether it be a drip or a burst pipe this will be your first port of call to turn the water off.
Is always handy to physically turn your stops cock once or twice a year this will enable your stop cock to move freely without sticking due to lack of use. However there is a common problem associated with older stop cocks after turning. Drips! ! the drip could be slowed down with a  temporary plumbing repair. A handy device to have is an emergency plumbing clamp://www.leakmate.co.uk/  this device enables you to stop a burst pipe leak on a temporary bases,it is ideal for use on temporary plumbing  repairs until a professional plumber can be called in.
Temporary plumbing repairs are just that temporary, they enable you to stop extreme water damage however you most get professional   advice at the first possible opportunity. Plumbers have several mains of isolating water in an emergency but if you wise to carry out temporary plumbing repairs this device can be a life saver in an emergency.