Urgently need a plumber in an emergency
Not all sector of the construction industry requires the urgency that plumbers are often required to undertake.  For example, a plaster may have completed a designated task and then be recalled to rectify work that was unsatisfactory to a customer.  A recall can always be arranged at the convenience of both parties without the urgency that a plumber is often faced with.
It can often be the case with plumbing repairs deferring a problem can increase the possibility of further complications.  If you are in urgent need of a plumber in an emergency attainability shouldn't be a problem.  There is a sector the plumbing and heating industry that specialise in 24 hr emergency plumbing repairs.  Plumbing and heating are one of the primary necessities used in the home.  So whenever the water supply is interrupted,  or the heating as stops working, there is an urgent need to resolve the issue.
The necessity and home comforts that we have all become accustomed to are power to the lights at the flick of a switch, hot and cold running water and a fully functional bathroom.  Plumbers and electrician skills are both utility based services,  The skills used are not only to restore the current operational function where something has become faulty but also to adhere to a high standard of safety that experienced engineer's  that are serious and committed to their craft.  It's a great comfort the know that a disruption to any of your household utility can be catered for a 24-hour basis.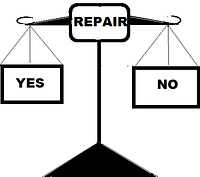 Why the urgency to carry out plumbing repairs?
Unquestionably some situations need not be debated whether an emergency response is required or not, but on occasion, the grey area of deciding can a repair be deferred until a more convenient moment.   A blocked toilet in a property containing only one toilet renders the occupants no alternative but to either find alternative residents or enlist the services of an emergency plumber.  However having two toilets fitted in a property as oppose to one can have its advantages.   This is clearly evident in situations like this when the urgency to carry out plumbing repair is minimum and as a far less impact on the occupants.
 
Why take a chance in order to cut costs?
Putting off plumbing repairs in an event to cut cost could be a recipe for disaster.   Quite often the cost of an emergency plumbers services would be significantly cheaper than the cost of repairs due to water damage.  A defective joint that is leaking never gets better but will always become worse.  A situation like this can on occasion go unnoticed until visible signs appear, like water stains and damp patches.
For those that live in an apartment/flat the consequences can be dire, not only will a leak cause damage to your property but also for those that live below. Thus leaving a bill for not just one property but two. So it is vital for those that live in multiple occupancy buildings to tackle any form of leak as soon as possible as it's not just your property at risk but those below.
Leaks not only contribute significantly towards wastage of water,  but they also create other problems that affect plaster, Electrics ceiling rafters and laminate flooring.   Leaks can often be overlooked and differed until the situation escalates into an emergency crises.   The best course of action,  enlist the services of a plumber to repair the problem as soon as possible, this will avoid the possibility of further complication.