Local Washing Machine – Installation.
Before starting the installation of a washing machine, our professional team makes sure they understand the working principles. This guarantees that they have all the necessary knowledge to ensure a successful installation. Our installers are highly experienced in installing washing machines. As a washing machine installer, we do exactly that. We do not repair machines. They will ensure the cold water supply is connected to your machine and the most straightforward way to connect an outlet to the waste is configured correctly. After being installed, it is required to check the cold water inlet and outlet to make sure the installation process was done right. This ensures that everything is set up properly and ready for use.
What Are the Benefits of Having an Expert Install Your Washing Machine?
The advantages of having a professional install your washing machine, why hire a pro washing machine installer for the installation of your washer dryers) An expert can install kitchen appliances, dryers, washers and other home items where technicians are needed. A professional works faster and more efficiently than an amateur.
Professionals also understand the importance of maintaining warranty, which is often lost when DIY installations are performed by amateurs.Professional installation typically includes scheduling to ensure that the technician arrives at a convenient time for you, giving you peace of mind that the job is done quickly and professionally.
They also take note of any special considerations or needs for the appliance being installed. So your new appliance will work well in your home.
Why Modern Washing Machines Only Require a Cold -Water Supply?
Washing machines have gone through an impressive modernisation, making them more efficient than ever before. With the use of biological detergents and washing at 40 degrees, warm wash temperatures are no longer required. By using cold water in the washing cycle, enzymes in the detergent are able to work more effectively. This means there is no need for the use of an incoming hot supply of water.
The latest washing machines are designed for maximum efficiency and can work autonomously, even when the hot water supply fails. Plus, they offer a higher quality wash than earlier models – all at lower temperatures. Heating up the water inside the washing machine when needed is a more affordable option than relying on an outside source for hot water. This way, only a small amount of water is heated up, which helps save costs.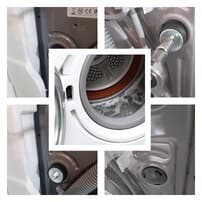 Common Problems Associated With New Washing Machines -Installations.
Prior to being sent out of the factory, all new washing machines must go through a strict testing process. Should you experience a failed wash sequence after installation, it is likely due to one of three issues: user unfamiliarity with operation of the product. Reading the instruction manual is a great way to resolve this issue. Water shortages and blockages that stop water from being released are quite common and should be addressed immediately. This will fix the error code problem so you can start up your machine without any hassle.
We Can Install Your Machine – today.
It is essential to understand ow washing machines are installed before starting work. There are two main types of installation: direct connection to the outside or via a sink trap. During the washing cycle, it's necessary for the machine to remove water. This can be done either directly to the outside or through a sink trap.
An experienced washing machine installer should take into account the kind of property before deciding how to create the wastewater distribution outlet. Generally, for modern apartments, the wastewater outlet is installed internally with the help of a washing machine trap installed beneath a sink.
This is the most practical solution when there is restricted access to the outdoors, for example, a house with a downstairs kitchen. It makes installing new appliances straightforward and uncomplicated. Wastewater distribution configuration consists of creating a path through a kitchen wall direct to an outside drain.